16 May

Did you know National Academy of Osteopathy DOMP program at over 2260 hours is one of the most in-dept osteopathy programs in Canada?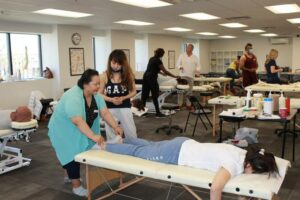 There are a number of schools in Canada offering 3 to 5 years osteopathy programs but their total teaching hour ranges between 300 to 1500 hours as they teach one weekend a month, 6 months per year.
NAO graduates can join the College of Registered Manual Osteopaths to become an RMO which gives them the ability to bill most private health insurers in Canada.
Additionally Dr Pourgol teaches them all he knows about business in over 250 business management lectures which enables them to have annual average income of $150,000 which is $60,000 more than what other manual osteopaths make in Canada.
You can study osteopathy anywhere. But to become a successful manual osteopath, there is only NAO.